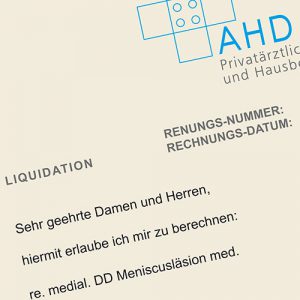 After treatment by our doctors, you will receive an invoice in the mail detailing the services rendered in compliance with the official German regulations for doctors' services GOÄ (Gebührenordnung für Ärzte) and listing the used materials and medication. Please settle this invoice which you can subsequently send to your insurer for reimbursement.
For any persons not insured in Germany, we usually submit our claims directly at the end of the treatment. Following payment in cash, the doctor will generate an invoice including a medical report which can be submitted to the patient's insurance abroad. As an exception, invoices to employees of flight companies may be paid by money transfer after invoice issuance.
Note on the treatment contract
The treatment contract is concluded between the patient and the treating physician and not by the AHD medical emergency and house call service.
---

We are here for you!
Daily from 05.00 to 22.00 o'clock
7 days a week.
AHD emergency and home visit service
for Munich and the surrounding area,
for privately insured and self-pay patients.
Phone +49 89 55 55 66