Care in Senior and Nursing Homes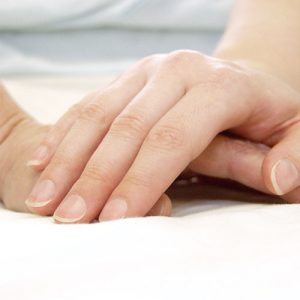 Old age or inability often require special and regular medical services whilst the mobility of the patient wanes over time. As trusted partners of numerous nursing and senior homes, we are optimally suited to meet their requirements with our house call service.
Our experienced team of doctors arrives quickly, daily from 05.00 to 22.00 o'clock, in acute situations, but also provides continuous and comprehensive care in case of long-term diseases. Our services include change or replacement of catheters, dressing wounds and supplying services in the field of pain therapy, infusion therapy and many more – also including physiotherapy and massages.
We offer comprehensive assistance in the field of palliative care for people nearing the end of their lives: from optimal medical care to sensitive handling of the patient and empathetic talks with the patient's dear ones, our doctors assist people in these difficult situations with warmth and tact – and in their home surroundings. When a patient passes away, we take proper care of the official formalities with the same amount of tact, so as to help and relieve the patient's dear ones and keep the inconvenience to the patient's environment to a minimum level.
---

We are here for you!
Daily from 05.00 to 22.00 o'clock
7 days a week.
AHD emergency and home visit service
for Munich and the surrounding area,
for privately insured and self-pay patients.
Phone +49 89 / 55 55 66